Extreme Sailing Series Cowes: Collision
— 7 August 2011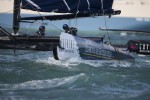 In the fourth race on the second day of the Extreme Sailing Series Act 5 from Cowes, France's Groupe Edmond de Rothschild ploughed into Sweden's Artemis Racing at the top mark resulting in severe damage to both boats – bad enough to end their racing for the day. A busy night in the pitlanes is expected to get them racing again tomorrow.
The breezy conditions on the second day of Act 5, with 20-25 knots steady breeze with bigger gusts earlier in the day, the 12-boat fleet was split into two groups of 6 and raced with reefed mainsails and no gennakers. The first group raced three races and the action was pretty spectacular as the Extreme 40 crews manhandled their boats around the tight stadium racecourse off Egypt Point, Cowes. It was in the first race for the second group that the collision happened between Artemis Racing and Groupe Edmond de Rothschild.
Artemis Racing, helmed by Santiago Lange, tacked in for the top mark on to starboard in front of Groupe Edmond to Rothschild, who were on port. Artemis Racing went through the tack and Pierre Pennec attempted to bear away around her stern, but the boats crashed – two of the French crew were thrown into the water. The impact was heard by thousands of spectators along the shore – a record crowd in the history of the event – who have been experiencing amazing close up Stadium Racing all afternoon. As a matter of course, the jury will hold a hearing in the morning.
Artemis Racing has severe damage to the rear of their port hull and immediately called for a pump as they returned to the dock (later Santi Lange was transferred to shore for stitches). Groupe Edmond de Rothschild has sustained serious damage to their port bow and made their way slowly back under tow to the pitlane.
Current overall standings after 9 races, Day 2 (7.8.11)
Position / Team / Skipper & crew / Points
Luna Rossa (ITA), Max Sirena / Paul Campbell-James / Alister Richardson / Manuel Modena 60 points
The Wave, Muscat (OMA), Leigh McMillan / Kyle Langford / Nick Hutton / Khamis Al Anbouri 51 points
Groupe Edmond de Rothschild (FRA), Pierre Pennec / Christophe Espagnon / Thierry Fouchier / Hervé Cunningham 43 points
Alinghi (SUI), Tanguy Cariou / Yann Guichard / Nils Frei / Yves Detrey 42 points
Red Bull Extreme Sailing (AUT), Roman Hagara / Hans Peter Steinacher / Will Howden / Luke Cross 42 points
Team GAC Pindar (GBR), Ian Williams / Mischa Heemskerk / Andrew Walsh / Jono Macbeth 42 points
Oman Air (OMA), Sidney Gavignet / Kinley Fowler / David Carr / Nasser Al Mashari 33 points
Artemis Racing (SWE), Santiago Lange / Andy Fethers / Michele Ivaldi / Phil Jameson 27 points
Emirates Team New Zealand (NZL), Adam Beashel / Richard Meacham / Andrew McLean / Chris Ward 26 points
Niceforyou (ITA), Alberto Barovier / Stefano Rizzi / Daniele de Luca / Simone de Mari 24 points
Aberdeen Asset Management (GBR) John Pink / Rick Peacock, Greg Homann / John Gimson 23 points
Team Extreme (EUR), Roland Gaebler / Nahid Gaebler / Benedikt Wenk / Dan Morris 12 points
Photo Credit: Lloyd Images
Tags on NauticNews: Extreme Sailing Series – Extreme 40
– PR –