America's Cup : ORACLE TEAM USA captures first victory
— 8 September 2013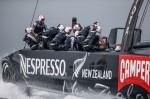 ORACLE TEAM USA notched their first win of the 34th America's Cup in the fourth race of the regatta today in San Francisco. The crew crossed the line 8 seconds ahead of Emirates Team New Zealand in the second of two races on Sunday. New Zealand won Race 3 earlier in the day and hold the advantage in the series.
"It's a real confidence boost for the boys," said skipper Jimmy Spithill. "The boys really kept their composure. They bounced back after losing that first one – we should have won it – and it says a lot for the team."
In Race 3, ORACLE TEAM USA took control and led around the first mark after Emirates Team New Zealand faced a penalty. The team carried the advantage on the downwind leg and around the second gate. In the midst of a tacking duel on the upwind leg, New Zealand claimed the lead and held on to finish 29 seconds ahead.
For Race 4, Spithill was in command at the start – both at the first mark and heading into the second gate when the bows dug into the water. ORACLE TEAM USA recovered and did not relinquish the lead, crossing the line 8 seconds in front.
"Honestly, I'm disappointed in the first race – we had a really good shot at winning that one. But, I'm happy with winning the second race today. I think it takes a little bit of the pressure off and it's a big momentum boost for our team," said tactician John Kostecki.
"We focused yesterday really on the tacking because our tacking was clearly not as good as theirs," Kostecki continued. "It looks like we made some gains on that today. The gybes seem to be always getting better as well. So, we're in pretty good shape to go out and attack on Tuesday."
ORACLE TEAM USA reached a top speed today of 45.97 knots (53 mph) in Race 4 and averaged 30.99 knots (36 mph), both ahead of New Zealand.
Although ORACLE TEAM USA collected a win, Emirates Team New Zealand leads the series 3-0 in points due to a penalty imposed by the Jury. ORACLE TEAM USA will score its first point in its third victory.
"This team is very good under pressure and they will fight the whole way to the end," Spithill said. "They will run themselves into the ground if that's what it takes. It feels good to shift the momentum over to us. We're going to work hard tonight and tomorrow and come out with the same attitude on Tuesday."
RACE 3 DATA
Course: 5 Legs/9.94 nautical miles
Elapsed Time: ETNZ – 25:00, OTUSA – 25:28
Delta: ETNZ +:28
Total distance sailed: ETNZ – 11.8 NM, OTUSA – 12.1 NM
Average Speed: ETNZ – 28.57 knots (33 mph), OTUSA – 28.62 knots (33 mph)
Top Speed: ETNZ – 42.25 knots (49 mph), OTUSA – 41.37 knots (48 mph)
Windspeed: Average – 16.8 knots, Peak – 19.3 knots
RACE 4 DATA
Course: 5 Legs/9.94 nautical miles
Elapsed Time: OTUSA – 22:42, ETNZ – 22:50
Delta: OTUSA +:08
Total distance sailed: OTUSA – 11.7 NM, ETNZ – 11.7 NM
Average Speed: OTUSA – 30.99 knots (36 mph), ETNZ – 30.92 knots (36 mph)
Top Speed: OTUSA – 45.97 knots (53 mph), ETNZ – 44.98 knots (52 mph)
Windspeed: Average – 19.5 knots, Peak – 23.3 knots
STANDINGS
Emirates Team New Zealand – 3
ORACLE TEAM USA – 0
Tags on NauticNews: America's Cup, AC72
Photo Credit : ACEA/ABNER KNGMAN
– PR –