Volvo Ocean Race: Reunited fleet prepare for battle in race to China
— 21 January 2012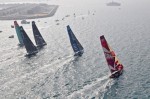 Pressure is starting to mount as the clock counts down to the next round of the Volvo Ocean Race, to the Chinese city of Sanya, starting on Sunday at 0800 UTC.
The full line-up will head into battle for the first time in more than a month as the second stage of Leg 3 gets underway.
The leg will see the six-strong fleet race more than 3,000 nautical miles across the Indian Ocean, through the Malacca Strait and into the South China Sea.
After a string of consistent results but no leg win, CAMPER skipper Chris Nicholson said Leg 3 Stage 2 could fall in their favour.
"We just have to bide our time for this next leg," he said. "There'll be a bit more upwind which we're comfortable with and just keep chipping away at where we're weak.
"We have a lot of homework in regards to the weather and geographical obstacles that we have in the next leg.
"I don't think the next leg will be won by boat speed, it will be won with being smart and keeping the boat in one piece and going the right way."
For Mike Sanderson's Team Sanya, stage two of the Leg 3 represents an opportunity to race into their home port as heroes.
"A nice end for us will be to secure a solid result in Sanya after a decent run," he said. "Obviously, a win in the in-port race at home would be a dream come true but just finishing the leg will be a milestone after all we've been through."
The fleet will have to tackle monsoon winds, painfully long stretches of upwind sailing through rough seas and there will be container ships to dodge as they pick their way through some of the world's busiest shipping lanes.
The five teams currently being shipped to an undisclosed port in the Indian Ocean are expected to arrive in the early hours of Saturday where they will be reunited with Team Sanya, forced to suspend racing during the first stage of Leg 2.
Once docked at the safe haven, the five boats will be unloaded and work will begin to prepare them for the second stage of the third offshore leg of the Volvo Ocean Race.
Leg 3 Stage 2 comprises of three sections: firstly, a stretch of more than 1,000 nautical miles to the northern tip of Sumatra, an area prone to monsoons.
The next section will see the fleet take on the Malacca Strait, a narrow stretch of water between Sumatra and Malaysia notorious for shipping hazards.
The final stage will see the teams race upwind for up to a week through the shallow South China Sea in potentially boat-breaking conditions.
Leg 3 Stage 2 is tipped to take the teams around two weeks to complete, with a finish in Sanya in early February.
Photo Credit: PAUL TODD/Volvo Ocean Race
Tags on NauticNews: Volvo Ocean Race
– PR –